Michael Collins was one of three astronauts on Apollo 11 when they successfully landed on the moon for the first time.
Collins was born on October 31, 1930 in Rome, Italy.
Michael Collins had a degree from the U.S. Military Academy at West Point, New York. After completing his education, Collins was transferred to the Air Force and became a test pilot at Edwards Air Force Base in California. He was admitted to the space program 1963.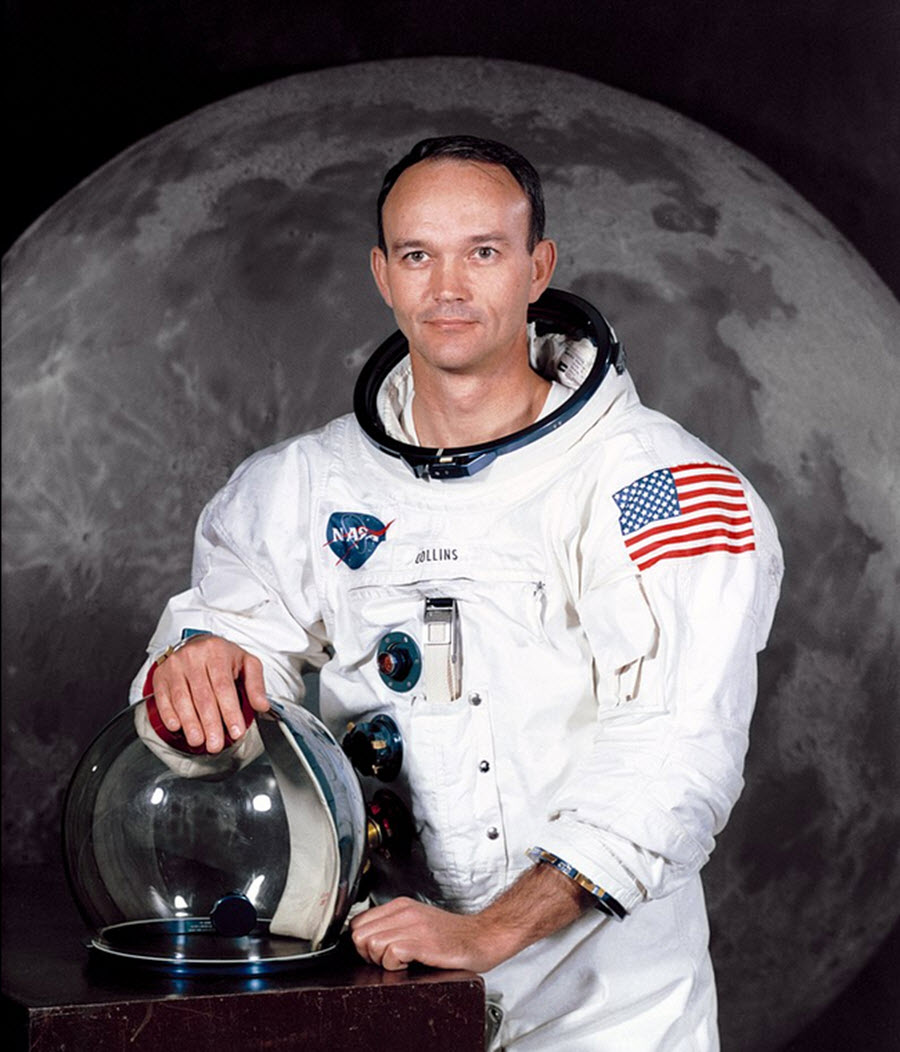 Gemini 10
Gemini 10, or Gemini X as it was its official name, was a spaceflight performed by NASA in 1966. The crew on board belonged to the Gemini program and Michael Collins was one of them.
Gemini 10 was launched on July 18, 1966. After a collision with a vehicle from Agena, they used Agena's engines to reach an altitude of 764 km, which was a record at that time. Gemini 10 returned to Earth on July 21.
It was the 24th spaceflight of all time.
Collins flew with John Young and the two became the first ones to do any activity done by an astronaut or cosmonaut outside a spacecraft beyond the Earth's appreciable atmosphere, so called extravehicular activities.
Apollo 11
On July 16, 1969, Collins went to the moon. He flew 250,000 miles to the moon on the Apollo 11 but never set foot on the satellite.
He stayed in the command module and orbited the moon until Armstrong and Aldrin returned from their moonwalk. Michael Collins was alone for more than 21 hours in the Columbia command module and orbited the moon once every two hours. He lost communication with everyone as he passed beyond the far side of the moon, the most remote part of space that humans have visited.
Apollo 11 returned to Earth and landed in the Pacific Ocean on July 24. After that, they waited 18 days in quarantine to check that they had not received anything dangerous or contagious from the moon.
Then they embarked on a tour of 21 nations.
Later life
Apollo 11 was his last space mission.
In 1969, he was appointed Deputy Foreign Minister for Public Affairs.
In 1971, he became director of the National Air and Space Museum in Washington, D.C.
In 1978, he was the first director of the Smithsonian Institution, overseeing both the design and the construction of the main building in Washington, DC
From 1980 to 1985, he was vice president of an American airline. He wrote four books during his lifetime, including one about his space travel.
Personal life
Michael Collins married Patricia M. Finnegan in 1957. They met at an air base where Patricia worked. They were married for 57 years until her death in 2014.
Collins and his wife Patricia had three children together – daughters Kathleen and Ann and a son Michael Jr.
Their eldest daughter Kathleen, known as Kate, is an actress best known for starring in the soap opera All My Children, which aired between 1970 and 2013.
Michael Collins' other children have stayed out of the public spotlight.
Collins lost the battle against cancer and died on April 28, 2021 in Naples, Florida.