Neil Armstrong, full name Neil Alden Armstrong was born on August 5, 1930 in Wapakoneta, Ohio.
He was part of the Apollo 11 spaceflight in 1969 with Buzz Aldrin and Michael Collins.He is known to be the first person to set foot on the moon.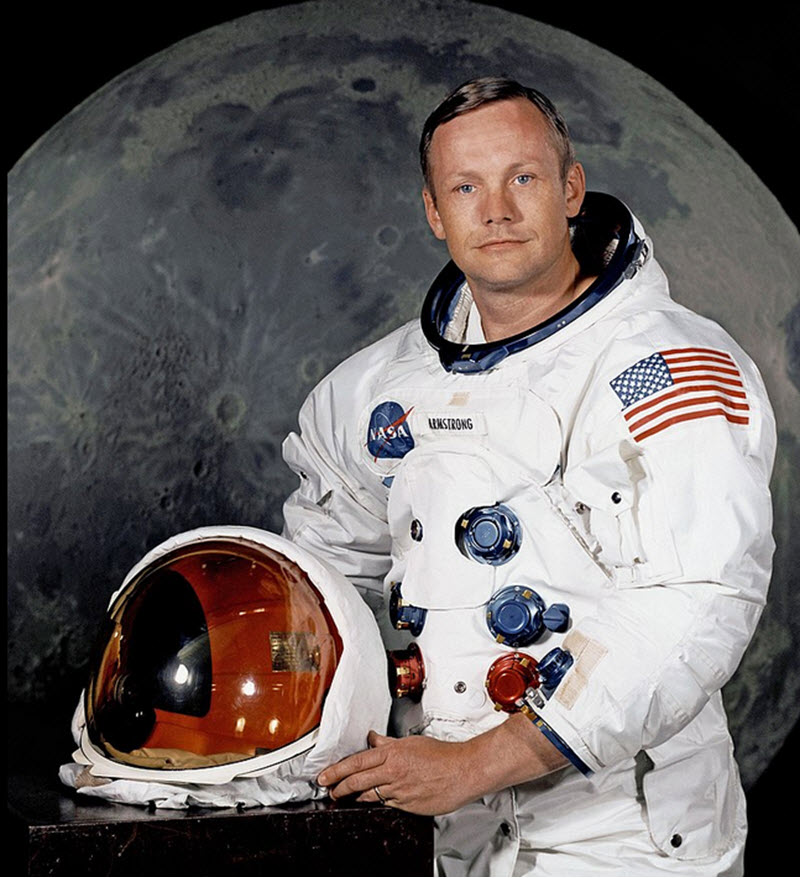 Early life
Neil Armstrong grew up in Wapakoneta, Ohio, as the eldest of three children born to Viola Louise Engel and Stephen Koenig Armstrong.
At the age of six, he flew on an airplane for the first time, an experience that ignited a passion for aviation in him. He was active in the Boy Scouts of America and received the Eagle Scout ranking, the highest achievable rank.
He received his pilot's license on his 16th birthday and became a naval flight cadet the following year.
Univesity & Military service
He studied aeronautics at Purdue University in West Lafayette, Indiana, but had to postpone his studies in 1950 due to his service in the Korean War. During the war he was shot down once and got awarded with three medals.
After graduating with a degree in aeronautical engineering from Purdue University in 1955, Neil Armstrong became a civilian research pilot for what would later become the National Aeronautics and Space Administration (NASA). He tested various supersonic fighters as well as the X-15 rocket plane.
He flew more than 2,450 hours before joining the 1962 space program.
Apollo Program
On July 20, 1969, two of the astronauts from  Apollo 11 landed on the moon. Neil Armstrong was one of them and the first to set foot on the moon. As he stepped onto the lunar surface, he said the famous words: "That's one small step for (a) man, a giant leap for mankind." He and crewmate Buzz Aldrin spent more than 21 hours scientifically testing and sampling the moon.
Following their successful Apollo 11 mission in 1969, Neil Armstrong and his crew toured over 20 countries to celebrate a new era of space exploration. Armstrong received the President's Medal of Freedom the same year, the Congressional Space Medal of Honor in 1978, and the Congressional Gold Medal in 2009. He resigned from NASA in 1971 and immersed himself in various academic and professional purposes for the rest of his life.
Later life
From 1971 to 1979 he was professor of aerospace engineering at the University of Cincinnati (Ohio).
After 1979 Armstrong served as chairman or director for a number of companies. He also served on the National Commission on Space (NCOS). There he took part of a panel tasked with setting goals for the space program. On the Presidential Commission on the space shuttle Challenger Accident, he joined the group that was set up in 1986 to analyze the security shortcomings of the Challenger disaster.
Personal life
Neil Armstrong got married to his first wife Janet Shearon in January 1956. The couple had three children together but lost their daughter Karen in 1962. Their marriage ended in 1994. Neil married the 15 year younger Carol and the two stayed together until his death in 2012.
Neil died on August 25, 2012,in Cincinnati, Ohio, aged 82.He underwent a heart bypass operation and died a few weeks later from complications from the procedure.